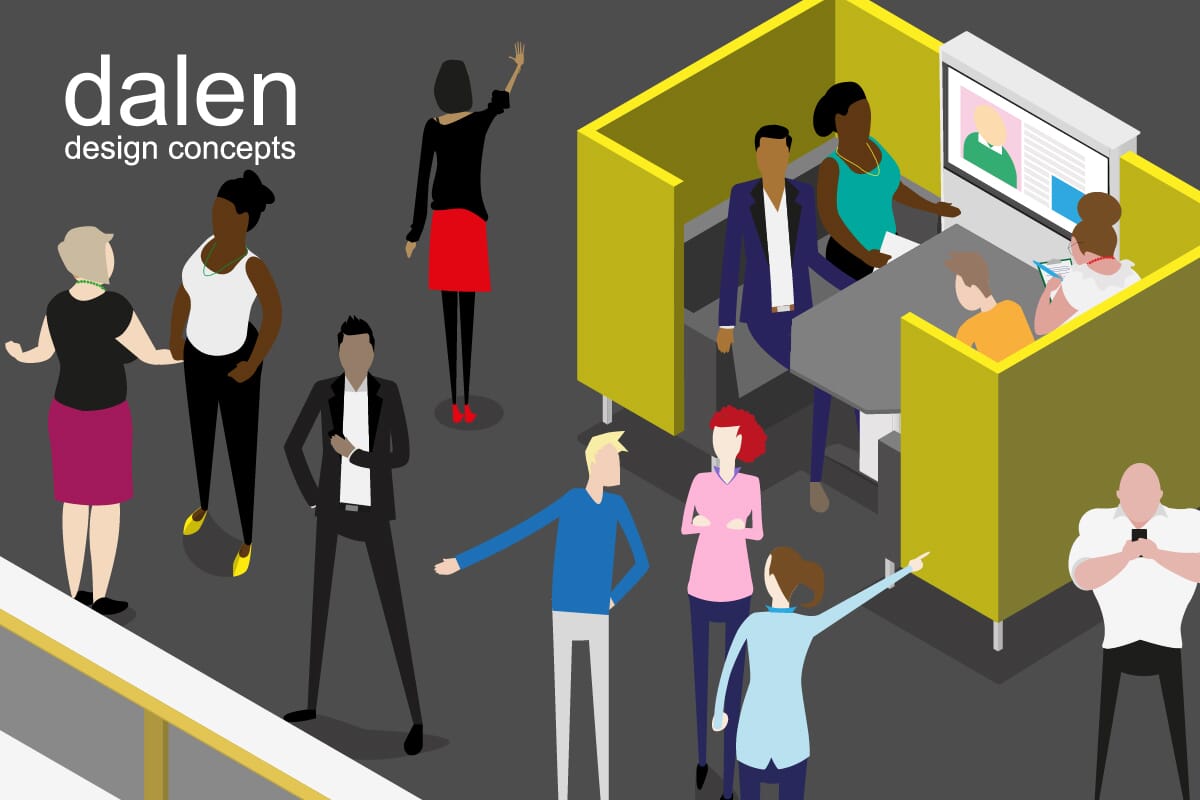 Why You Should Improve Private Meeting Spaces In Your Open-plan Offices
Posted on
15th November 2019
It has become a growing trend in modern office environments to utilise every space available, enhance collaboration and tear down the barriers keeping employees from interacting with each other by creating open-plan spaces. This often involves removing walls, doors, formal meeting spaces and other boundaries.
However, this method  has produced mixed results when private spaces are absent from the equation. A study into how open plan spaces impact collaboration1 states that based on evidence captured before and after participating companies transitioned to open-plan office spaces, face to face interactions and collaborative activities between members of differing teams declined by 72%. However, team member collaboration and communication improved across face to face and digital mediums.
One of the main factors in these results was determined to be a lack of private space which left participants feeling exposed and on show. This in turn elicits a response of withdrawal, with employees becoming more reluctant to put themselves in those situations.
Improve collaboration & enable people to work in private
For the most part conversations and meetings in the workplace can be informal affairs. Crating a relaxed atmosphere in the workplace can drastically improve productivity. Traditional breakout spaces can be integrated into your workspace environment to enhance collaboration by providing access to anyone at any time for any activity, giving employees a choice of where and how to work. A relaxed atmosphere encourages open conversation, increases cooperative behaviours and improves general well-being. In an Ideal workspace these spaces can easily be utilised throughout the day.
One of the best ways in which you can reduce factors that impede your employees desire to collaborate and communicate face to face, is to provide private spaces for formal meetings, group activities and informal social interactions. An ideal multifunctional solution that limits external office noise and encourages collaboration is Dalen Design Concepts' FOCUS POD. These units can provide respite from an environment where privacy is hard to come by.
The FOCUS POD enables you to create private spaces that are fully integrated with AV technology and connectivity, allowing employees to collaborate and share ideas with ease. What's more, because the FOCUS POD is a stand-alone solution there is little or no need to adjust your existing infrastructure, reducing the impact of installation on your business.
Contact Dalen today
If you are interested in improving your open-plan and private workspaces, you can get in touch with our team using enquiries@dalendesigns.co.uk. Or, if you would prefer to chat over the phone about your requirements, one of our team will be available on +44 (0)121 508 4350. We look forward to hearing from you!
Additionally, you may be interested in our previous article in which we look at how to get the most out of your workspaces and improve productivity.
References
Bernstein, E. and Turban, S. (2018). The impact of the 'open' workspace on human collaboration. Philosophical Transactions of the Royal Society B: Biological Sciences. Available at https://royalsocietypublishing.org/doi/10.1098/rstb.2017.0239