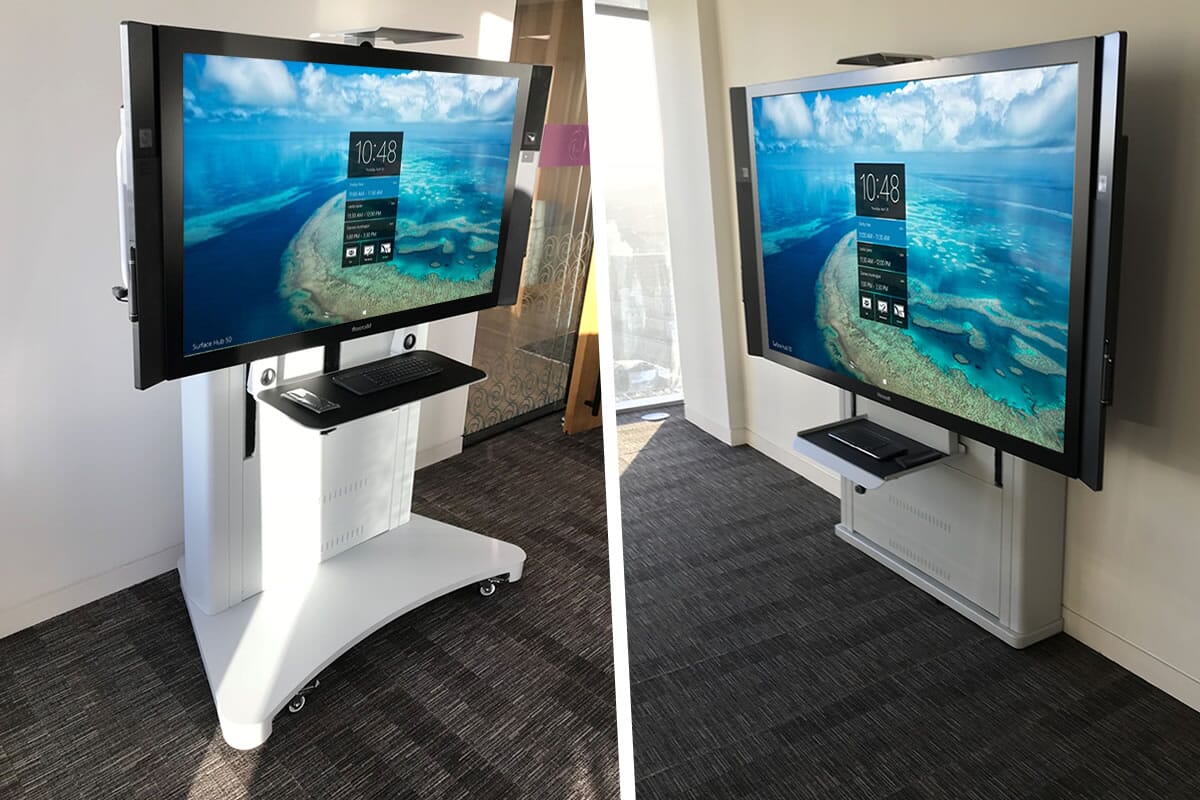 DISCOVERY – Does your large interactive screen have the right support?
Posted on
26th March 2018
As a result of organisations investing heavily in employee training and collaborative working programmes, there has been a steep increase in demand for large interactive touch screens in the workplace. Interactive screens are expensive pieces of kit, costing up to £20k for some models, therefore it is so important for organisations to invest in functional quality mounting solutions to support them.
What challenges need to be resolved?
Protected investment – Making sure your mounting solution is secure and going to last
Functionality – Can be configured for multiple purposes such as meetings, video conferencing or presenting and include storage capacity for AV or IT equipment
Style – Corporate clients are seeking more stylish 'non-skeletal', 'non-industrial' designs
Height requirements – All users need to be able to use the screen
Introducing

Discovery…
Discovery is our latest range of height adjustable Trolley and Floor-to-wall mounting solutions for all large interactive touch screens, able to secure screens up to 90" and 130kg including the Microsoft Surface Hub™. Discovery has been specifically designed to securely mount and transport large screens in the workplace. It is an ideal solution for a variety of commercial, education and retail spaces where displays and integrated AV and IT equipment can be securely stored together.
Discovery Trolley
The Discovery Trolley is an electrically height adjustable, mobile solution for VESA compatible large screen displays. The Trolley features robust handles either side of the screen for easy room-to-room transportation and can fit through a standard doorway, so you can easily bring it in for meetings and take out when not required.
Discovery Floor-to-wall
Discovery Floor-to-wall is a self-contained wall mounted digital signage solution that supports integrated AV and IT equipment. The mount is bolted to the floor eliminating the need for a solid wall bracing and combats the issue of the wall taking the entire force and weight of the screen.
Supports ALL large touch screens up to 130kg
Height Adjustable – Enabling users with all height requirements to use the screen
Robust construction – Our secure in-house manufacturing ensures the safety of your expensive equipment
Stylish design – Able to colour match workplace interiors and touch screens
Secure internal storage – Allowing you to store or integrate our own AV/IT equipment, also available with exterior shelving options
Quick & easy install – With standard VESA mounts & cable feeds
If you are interested in our Discovery solution, please contact enquiries@dalendesigns.co.uk or call +44(0)121 508 4350